Coronavirus
So I thought I should write something about how Covid 19 has affected me and my business. I should probably start by saying I know how lucky I am. Only one person I know has ended up in hospital with Covonavirus, and they are back home now and all is good. I know that so many other people have not been so lucky. I am also fortunate that my job doesn't expose me to the risk of catching Covid 19 on a daily basis like NHS staff, carers and other keyworkers.
And now for something completely different
Now this is a story all about how
My life got flipped, turned upside down,
So won't you take a minute, just sit right there,
I'll tell you how I got stuck at home because of Covid-19
In West Wiltshire born and raise
Taking photos was how I spent most of my days
Checking apertures, exposures, and all
And shooting some photos that looked pretty cool
When this one bad virus that was up to no good,
Started making trouble in all our neighbourhoods
We got in one big fight and everybody was scared
And the WHO said stay inside and don't go out there…

With apologies to DJ Jazzy Jeff & The Fresh Prince. I just thought I would have a little fun with that to lighten the mood.
What has changed
When the lockdown in the UK started, I stopped selling prints of my work. I did this so I wouldn't have to go to the post office to dispatch orders, as I felt it wasn't worth the risk to anyone's health, as I explained in a previous blog. I also stopped selling to countries outside the UK for the same reason. Obviously, I can't go very far to take photos and I can't take photos of people.
I decided that the best thing to do was to treat this as a unique opportunity. There was now time to do all the things I hadn't done because I didn't have the time. Also, I could use the time in a way which meant that when the lockdown was over, I wouldn't have to spend anytime at home (unless I wanted too).
I tried to throw myself into work and carry on as though nothing had changed. I gave myself lots of tasks to keep myself busy. However, as time wore on, and the lockdown was extended I started to find it hard to get it all done. This seemed odd to me, I had the time to do it, so why couldn't I just do it? I realised that it was because I was putting too much pressure on myself. This isn't a time for getting stuff done, it is a time for looking after yourself and those you care about. Of course, keeping busy is a big help in dealing with these uncertain times, but there shouldn't be any extra pressure to do more. And so I have taken a step back, and taken the pressure off myself, and by trying to do less, I am able to do more.
What I have been doing
I have planted potatoes and I've been clapping on a Thursday night with my neighbours. As you may have noticed, I have started blogging regularly (ish). There was a time when I had to fixed the toilet. I have re-designed my website. I have made a start on a project I've had in mind for about a year. I've also been doing a lot of thinking, probably too much, because thinking too much is something I am good at. But mostly I've been trying to look after myself and my other half, and those I care about, even if it's only by checking that they are OK. Oh, and I've been drinking tea.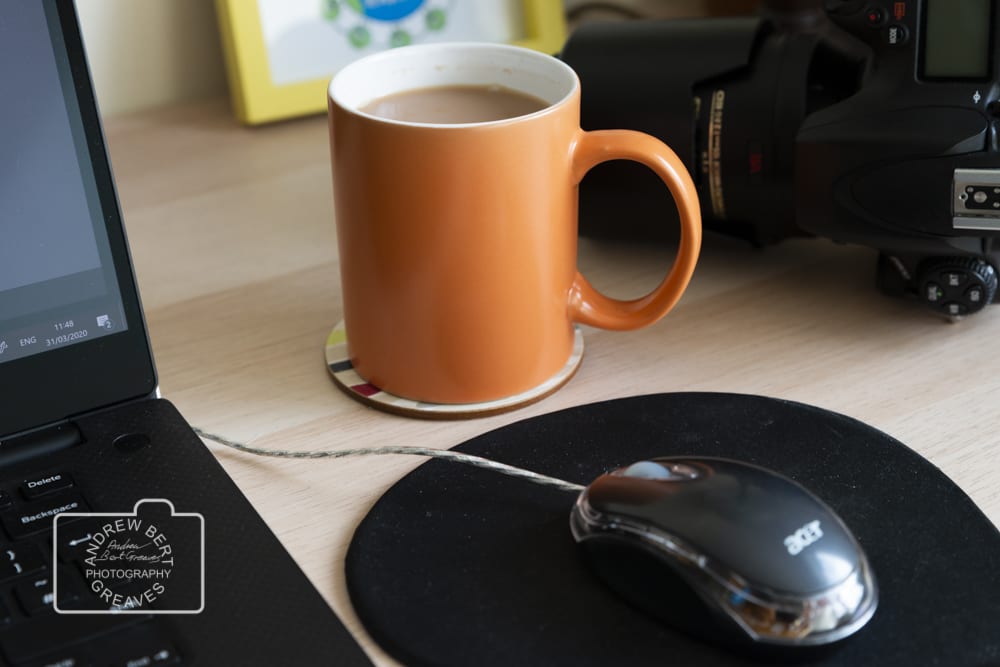 Hope going forward
It seems that things are getting better. All the Covid 19 numbers that we want to be seeing going down are. Of course it's not over by a long way. However, things seem a little more hopeful and we can start to think about coming out on the other side. It might be a long way off, but we can still start thinking about it. I have started selling prints again. I am only selling relatively small unframed and unmounted prints. This is so I can just put them in a post box and not have to make a trip to the Post Office. I am still only selling to the UK. You can see what is available in my Etsy store. You can follow me on Facebook, Twitter and Instagram. Please stay safe and I hope we will be able to play outside soon.